Trends
Top Content Management Systems to Consider for Your New Website
Published by Spinutech on July 1, 2021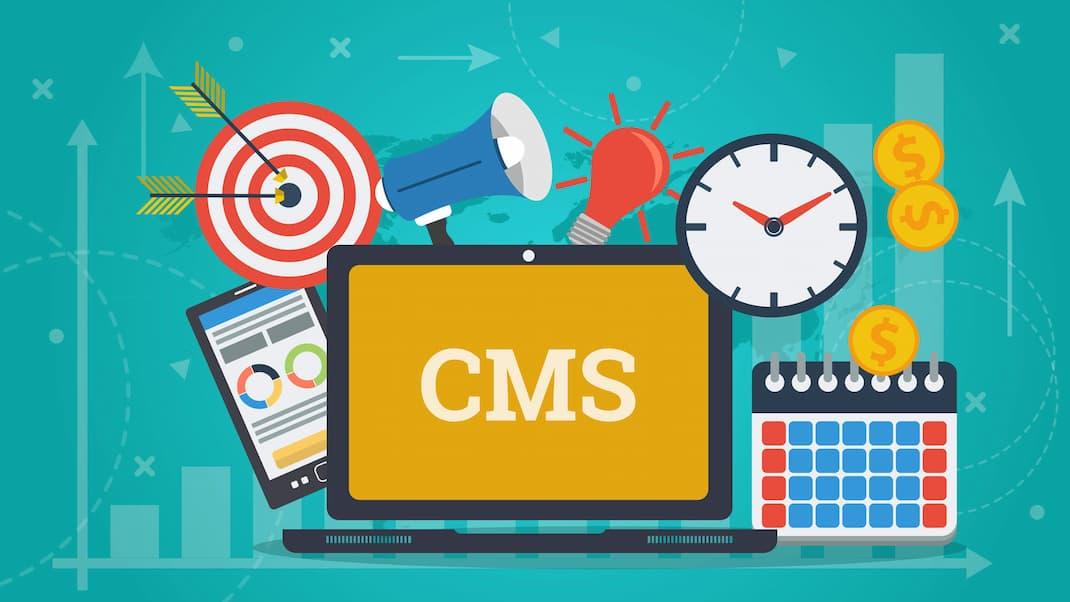 A content management system, or CMS, lays the foundation for your new business website. How you build and manage the website from here on out will depend on which CMS you choose. Many of popular content management systems seem to include the same features, but what sets them apart from each other?
As an end-to-end digital partner, we have experience using a variety of different content management systems. To help you choose the best CMS for your website, we've put together the guide below.
Why Do You Need a CMS?
A content management system (CMS) lets you create and modify your website's content in a user-friendly software. The main advantage of using a CMS is, there's no need to know how to code or design your own system for creating, publishing, and managing content. You can choose existing templates and plug-ins to customize the look and functionality of your site.
If you don't have experience with web development, maintaining your website can take a lot of resources. A CMS lets you focus on the front-end content that your customers see — service pages, blogs, new product pages, etc. — and removes the heavy lifting on the back end.
With a CMS, you access and store all of your content in one convenient location. Multiple users can access and work on it at the same time. That improves workflow productivity, security, and collaboration.
What to Consider When Choosing a CMS
When you set out to build a new website, you will need to figure out what you need it to accomplish. Then, you can search for a CMS with the features you need.
Functionality
Start with whether you need an e-commerce website or a website that functions more like a digital brochure. Consider what kinds of information it needs to contain and the experience a visitor should have with it. In other words, what will your site actually do?
Scalability
If you choose a CMS that only works for your current needs, finding and implementing a replacement CMS can cost you down the line as you grow. If you plan to publish multiple websites or add lots of new products in the future, pick a CMS that will scale with you.
Ease of Use
Remember to evaluate ease of use when choosing a CMS. It takes time to learn a new software application, of course, but if you or your team members continue to struggle with your CMS, you'll find your productivity slowing down. Check each CMS for an intuitive, beginner-friendly interface to ensure ease of use.
Customization
Don't expect any CMS you pick to have everything you need right out of the box. A great CMS leaves some room for customization, whether you want to add tools with third-party apps or code your own custom features. On the other hand, if a template will suffice for your needs, you may need less customization.
Price
Finally, don't forget to look for a CMS that falls within your budget. This doesn't mean you should look for the cheapest option; it's worth investing in a CMS that has the functionality, ease of use, and customization tools you need.
Comparing Popular Content Management Platforms
Ready to pick a CMS for your website? Take a look at the following popular CMS options.
Sitefinity
A powerful CMS that can handle a high volume of content and high traffic, Progress Sitefinity is one of the best CMS platforms available. You can create personalized content on multiple websites, for both desktop and mobile users. Sitefinity offers a free trial if you want to test it out first.
With drag-and-drop widgets and an intuitive interface, Sitefinity is very user-friendly. Sitefinity also allows you to store and access thousands of digital assets, including images, videos, graphics, and more.
WordPress
WordPress is an open-source, inexpensive choice for smaller businesses just starting out. Installation is quick and easy, and using the WordPress editor is a breeze. Plus, WordPress provides thousands of themes, plug-ins, and widgets, many of which are free. On the downside, websites can fall victim to outside threats through vulnerable or outdated plug-ins. If you need more features right off the bat for your site, you may want a more robust CMS platform.
HubSpot
HubSpot's list of built-in features is impressive: drag-and-drop page creation, search engine optimization, multi-language content management, inbound link tracking, and much more. It's not as inexpensive as other CMS options, but the functionality and customization often make it worth the investment. If you know you'll need most or all of these features, consider a feature-rich CMS like HubSpot rather than downloading each add-on separately.
Umbraco
Like WordPress, Umbraco is an open source CMS built by a community of developers worldwide. It's easy to use and customize Umbraco for your website's needs. Umbraco is a great choice for users who have some experience with a CMS. However, if you're looking for a CMS with responsive customer support, an open source platform may not be for you. There are plenty of active forums in which users can help each other troubleshoot problems, but it can take time to browse and find solutions for your issues.
Sitecore
With massive companies like Procter & Gamble among its users, Sitecore is an ideal e-commerce platform for enterprise businesses. This .NET-based CMS provides end-to-end content management and personalization. With advanced tracking and analytics, it lets you build sophisticated user journeys, learn about your customers, and accurately report ROI.
Kentico
Kentico is a subscription-based e-commerce platform that also lets you manage content and digital marketing. You can extend its functionality with a range of third-party apps and integrations. It's user friendly with responsive customer support. The company offers a free version with limited functionality, but to upgrade requires a sizable investment, so you will want to be clear about your needs and budget.
Find the Right Partner to Build Your Website
If you still need guidance to narrow the options for your CMS, choose a web design partner you can trust to assess your unique business needs. Whether you're building a website from scratch or replacing an existing one, these early decisions will affect your whole process. Choose the right partner and the right CMS, and you will be on your way to an effective web presence.
Connect with Spinutech to discuss how we can help grow your business through expert web design and development.